https://dirler-cade.com/en/
Le domaine / Les lieux-dits
5 lieux-dits aux alentours de Bergholtz
The hill dominated by the Oberlinger has a great diversity of terroirs, from which emanates an important variety of wines. L'ensemble des parcelles du domaine est conduit en culture biologique et biodynamique depuis 1998, afin d'exprimer au mieux la personnalité exceptionnelle de ces terroirs. All these vintages come from soils based on sandstone erosion.
Discover our wines
Location
Effenberg
Soil Oolitic limestone - Southern exposure Lower part of the Bollenberg hill (with a dry moor at the top classified as Natura 2000). This soil is very suitable for the production of Pinot Noir.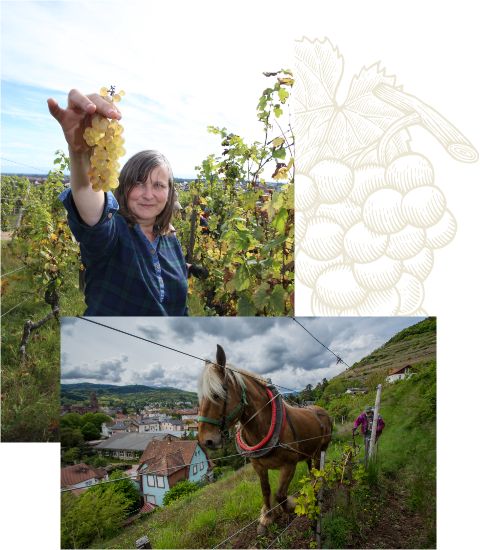 All the plots of land of the domain are led in organic and biodynamic culture
In many plots, we practice a partial ploughing in autumn and a complete ploughing in spring (destruction of the superficial roots) and we let a natural grassing be reconstituted in summer to avoid the important gullies and to recreate an ecosystem. Very steep or narrow vineyards are worked with a draft horse.
En épandant les préparations biodynamiques, nous améliorons la qualité de la terre, lui permettant ainsi la présence d'une grande variété de bactéries. By providing energetic impulses, we promote a better rooting of the vine in depth and a harmonious development of leaves, flowers and fruits.
To reinforce the vine's natural defenses, we also use small amounts of sulfur and Bordeaux mixture, nettle, osier and meadowsweet teas and horsetail decoctions.
Discover our wines
Discover
The cellar